New Release: Preferred Partner Program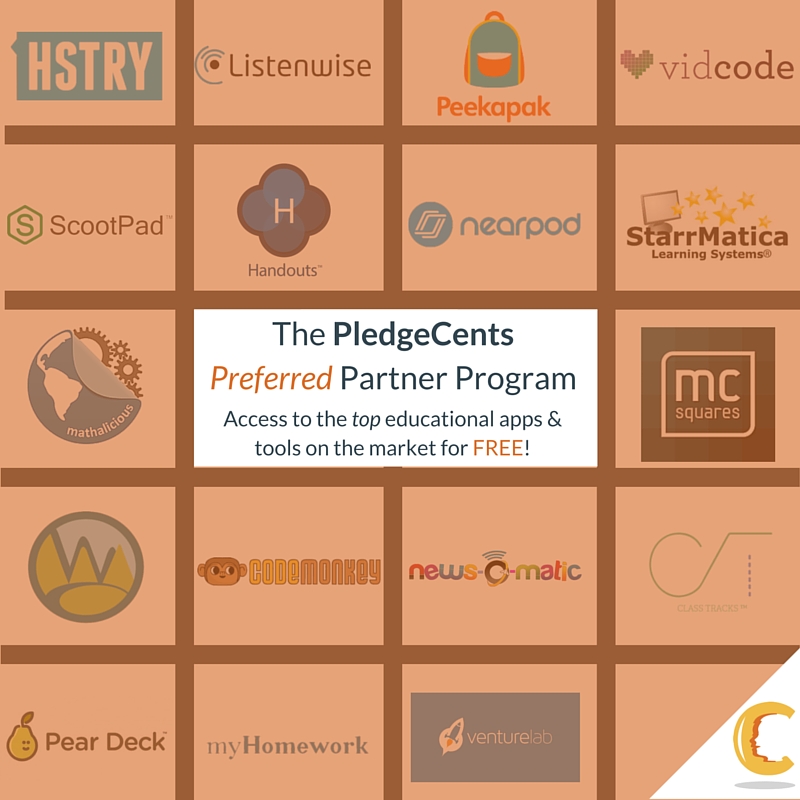 The education landscape is vastly changing. Technology is being adopted at a quicker pace now than it ever has in previous decades.
Over the past few years, we have had the pleasure of developing strong relationships with our awesome teachers. Part of that relationship is learning how they are positively changing the outcomes for their students by incorporating new technologies. Over the past year, we have been talking with teachers across the country about new tools they are using to innovate in their classroom.
What we found is that teachers are using more EdTech (Education Technology) apps or programs. The problem is, these great tools come at a cost and the abundance of tools out there can be overwhelming. That is where we come in.
We are happy to announce the launch of our new Preferred Partner Program!
We are proud to be the first to give you access to some of the best apps and tools that can help your students receive a better education! No other platform provides teachers with an easy, personalized, and secure way to purchase the EdTech tool of their choice.
The focus of the Preferred Partner Program is to highlight some the best EdTech tools and help our rockstar teachers access them...(wait for it) FOR FREE!
"The Preferred Partner Program stems from our belief that a lack of funding should never be the reason why students don't have access to quality software. We are beyond excited to have partnered with award-winning edtech companies that share our vision in ensuring that resources and opportunities are made available to all students. This collaboration marks the first of its kind by creating a streamlined way for teachers to source and fund technology for their classrooms."

- Kevon O'Rear, Director of Partnerships, PledgeCents
So how does this work?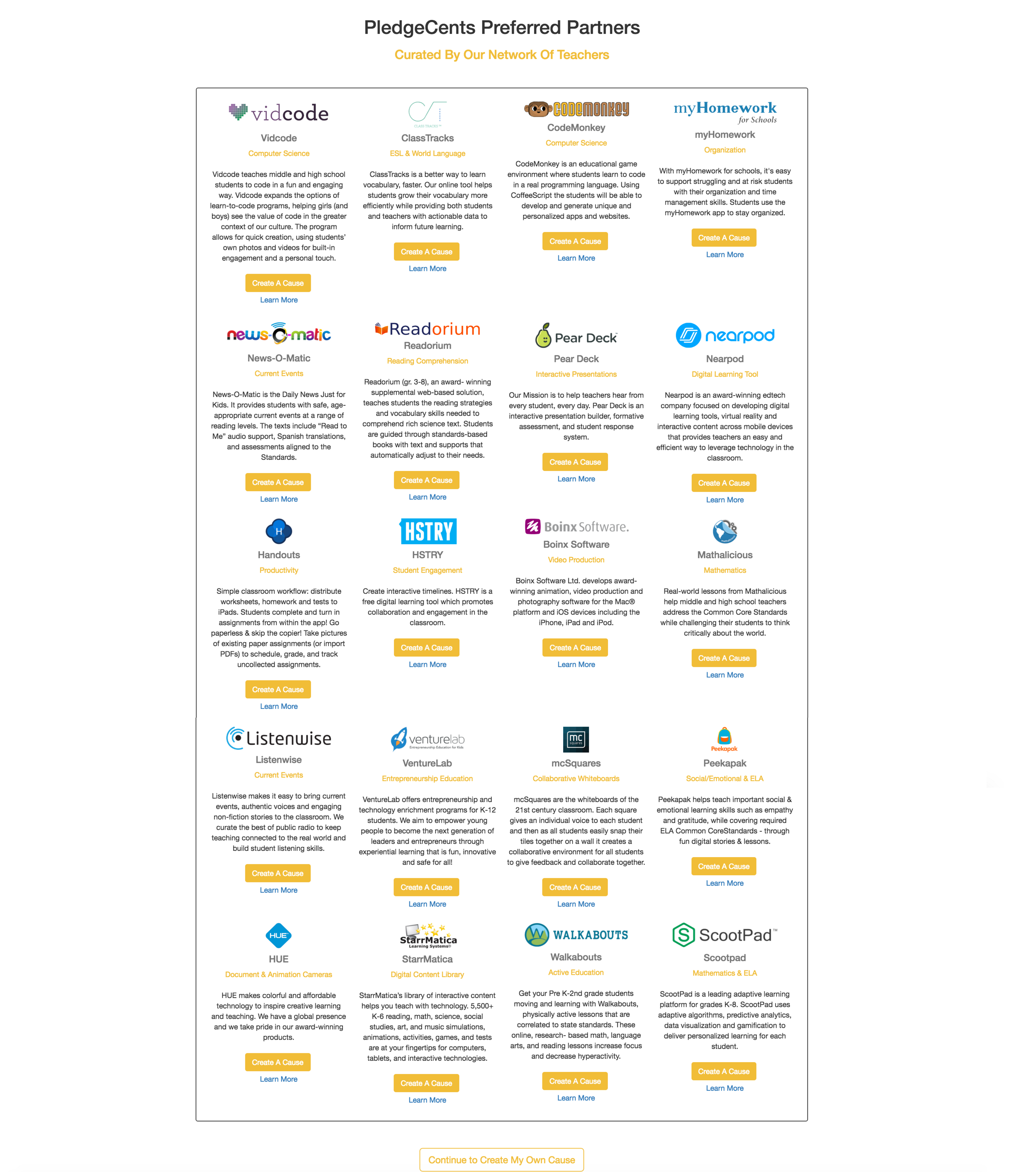 1. Take a look at our list of exclusive Preferred Partners.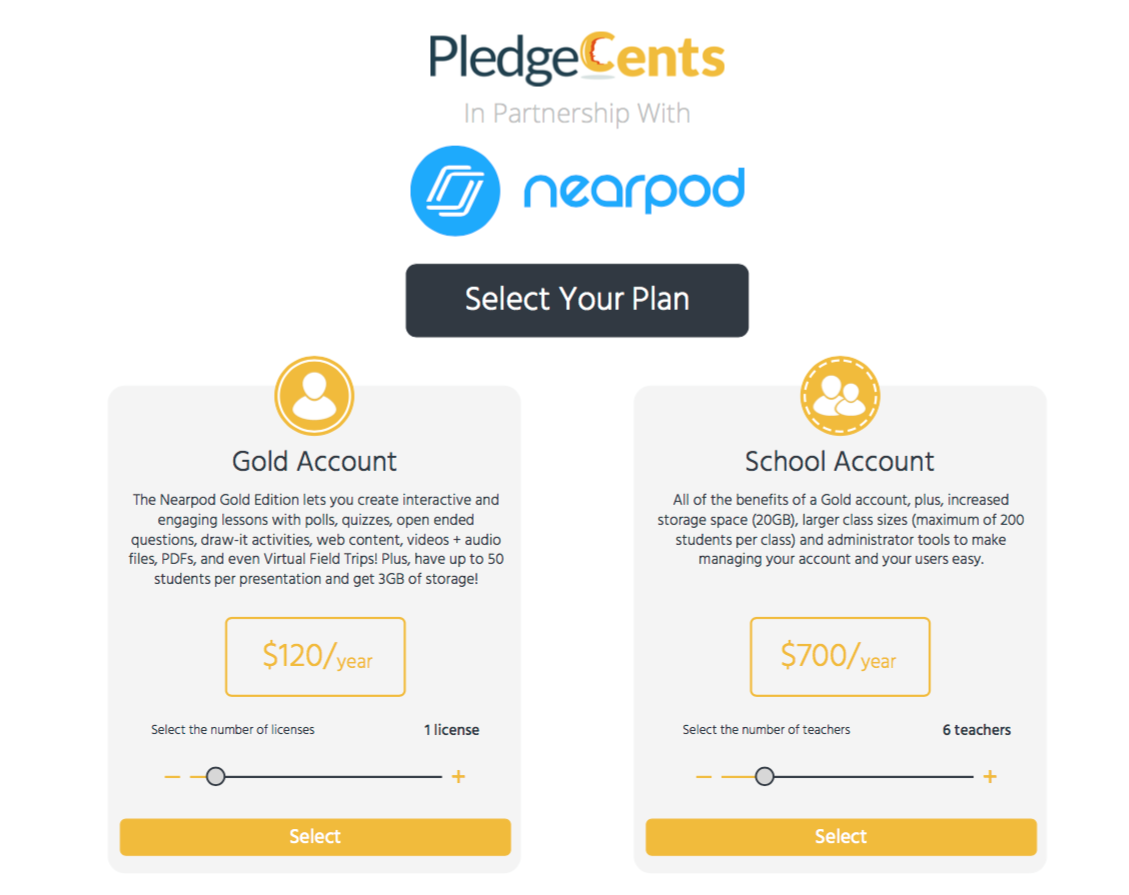 2. Choose the package (classroom license or school license) that you want to bring to your classroom.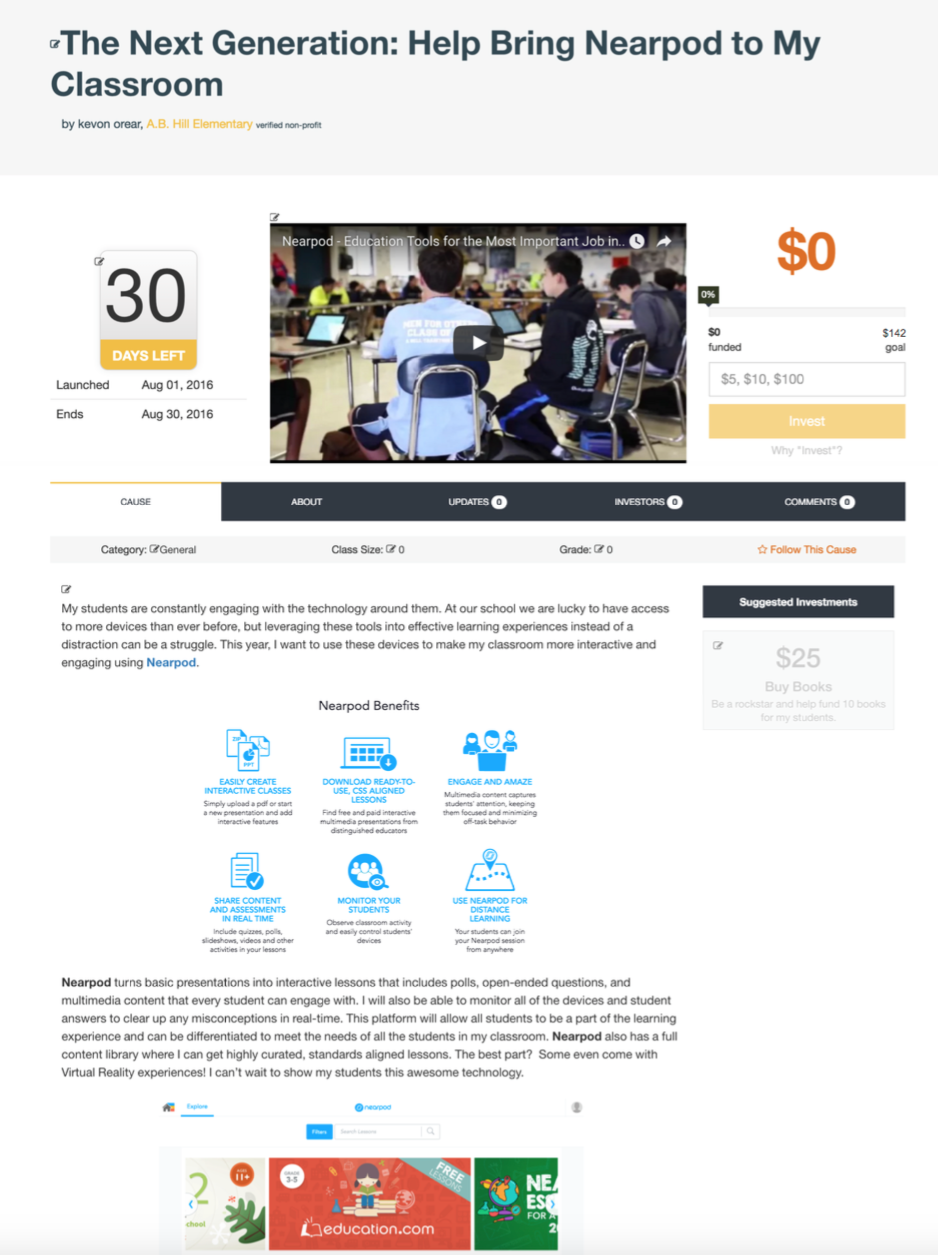 3. View your prepopulated cause that we have automatically created for you so all you have to do add your personal touch with information about your class.
4. Spread the word and raise the funds. Once the funds are raised, you will receive an email to notify you that you have gained access to the EdTech tool of your choice. We will make the payment for you so that you can focus on your students!
It really doesn't get much easier than that!
---
And, with that...we would like to introduce our exclusive partners that you can now raise funds for directly on PledgeCents:
Boinx Software Ltd. develops award-winning animation, video production and photography software for the Mac® platform and iOS devices including the iPhone, iPad and iPod. Sign up or Sign in to raise funds for Boinx Software (MimoLive).
ClassTracks is a better way to learn vocabulary, faster. Our online tool helps students grow their vocabulary more efficiently while providing both students and teachers with actionable data to inform future learning. Sign up or Sign in to raise funds for ClassTracks.
CodeMonkey is an educational game environment where students learn to code in a real programming language. Using CoffeeScript the students will be able to develop and generate unique and personalized apps and websites. Sign up or Sign in to raise funds for CodeMonkey.
Simple classroom workflow: distribute worksheets, homework and tests to iPads. Students complete and turn in assignments from within the app! Go paperless & skip the copier! Take pictures of existing paper assignments (or import PDFs) to schedule, grade, and track uncollected assignments. Sign up or Sign in to raise funds for Handouts.
Create interactive timelines. HSTRY is a free digital learning tool which promotes collaboration and engagement in the classroom. Sign up or Sign in to raise funds for HSTRY.
HUE makes colorful and affordable technology to inspire creative learning and teaching. We have a global presence and we take pride in our award-winning products. Sign up or Sign in to raise funds for HUE HD.
Listenwise makes it easy to bring current events, authentic voices and engaging non-fiction stories to the classroom. We curate the best of public radio to keep teaching connected to the real world and build student listening skills. We have robust Common Core aligned lesson plans in science, social studies and ELA that include a listening guide, vocabulary, and class activities. Listenwise Premium, a school/district subscription product, gives teachers access to our platform to assign students logins and create online assignments. Teachers give students feedback, track progress and get class reports. Premium also has interactive transcripts of the audio. Sign up or Sign in to raise funds for Listenwise.
Real-world lessons from Mathalicious help middle and high school teachers address the Common Core Standards while challenging their students to think critically about the world. Sign up or Sign in to raise funds for Mathalicious.
mcSquares are the whiteboards of the 21st century classroom. Each square gives an individual voice to each student and then as all students easily snap their tiles together on a wall it creates a collaborative environment for all students to give feedback and
collaborate together. Sign up or Sign in to raise funds for mcSquares.
With myHomework for schools, it's easy to support struggling and at risk students with their organization and time management skills. Students use the myHomework app to stay organized. Sign up or Sign in to raise funds for the myHomework App.
Nearpod is an award-winning ed-tech company focused on developing digital learning tools, virtual reality and interactive content across mobile devices that provides teachers an easy and efficient way to leverage technology in the classroom. Sign up or Sign in to raise funds for Nearpod.
News-O-Matic is the Daily News Just for Kids. It provides students with safe, age-appropriate current events at a range of reading levels. The texts include "Read to Me" audio support, Spanish translations, and assessments aligned to the Standards. Sign up or Sign in to raise funds for News-O-Matic.
The Pear Deck mission is to help teachers hear from every student, every day. Pear Deck is an interactive presentation builder, formative assessment, and student response system. Sign up or Sign in to raise funds for Pear Deck.
Peekapak helps teach important social & emotional learning skills such as empathy and gratitude, while covering required ELA Common Core Standards - through fun digital stories & lessons. Sign up or Sign in to raise funds for Peekapak.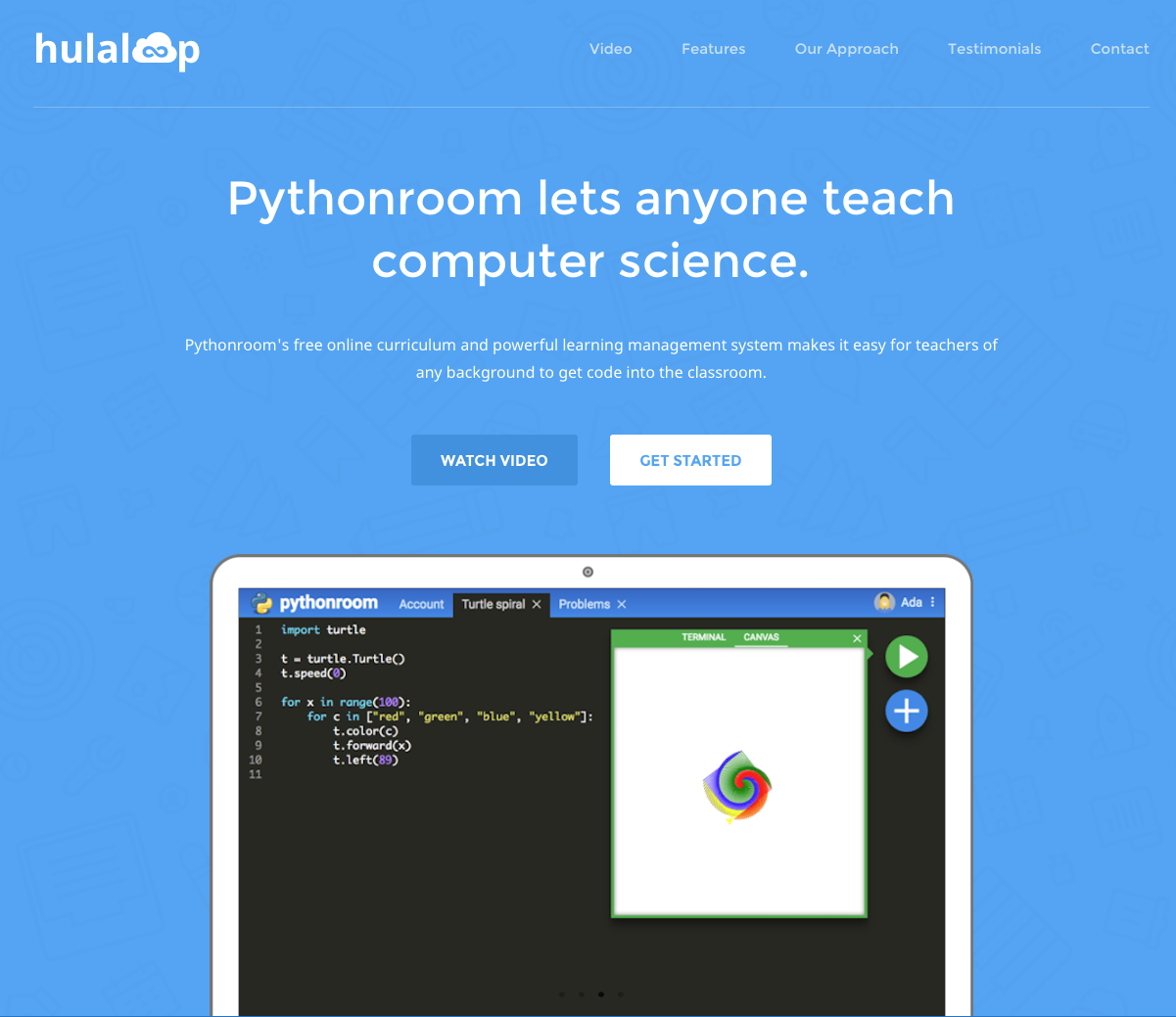 Pythonroom knows how difficult it is to start a coding class, especially for the first time. Pythonroom is designed to take the role of the teacher, while providing the instructor with real-time analytics and extra resources to facilitate the student learning experience. Pythonroom takes care of curriculum delivery, grading, and debugging so the teachers can focus on learning how to code and helping their students. Sign up or Sign in to raise funds for Pythonroom.
Readorium (grades 3-8), an award- winning supplemental web-based solution, teaches students the reading strategies and vocabulary skills needed to comprehend rich science text. Students are guided through standards-based books with text and supports that automatically adjust to their needs. Sign up or Sign in to raise funds for Readorium.
ScootPad is a leading adaptive learning platform for grades K-8. ScootPad uses adaptive algorithms, predictive analytics, data visualization and gamification to deliver personalized learning for each student. Sign up or Sign in to raise funds for Scootpad.
Starrmatica's library of interactive content helps you teach with technology. 5,500+ K-6 reading, math, science, social studies, art, and music simulations, animations, activities, games, and tests are at your fingertips for computers, tablets, and interactive technologies. Sign up or Sign in to raise funds for Starrmatica.
Vidcode teaches middle and high school students to code in a fun and engaging way. Vidcode expands the options of learn-to-code programs, helping girls (and boys) see the value of code in the greater context of our culture. The program allows for quick creation, using students' own photos and videos for built-in engagement and a personal touch. Sign up or Sign in to raise funds for Vidcode.
VentureLab offers entrepreneurship and technology enrichment programs for K-12 students. We aim to empower young people to become the next generation of leaders and entrepreneurs through experiential learning that is fun, innovative and safe for all! Sign up or Sign in to raise funds for VentureLab.
Get your Pre K-2nd grade students moving and learning with Walkabouts, physically active lessons that are correlated to state standards. These online, research-based math, language arts, and reading lessons increase focus and decrease hyperactivity. Sign up or Sign in to raise funds for Walkabouts.
---
FAQ:
1) What if we know another edtech company that is not on your list?
We ask that you share this information by sending us an email at info@pledgecents.com.
2) What happens when I raise the money for my cause?
Once you raise the funds needed for one of our Preferred Partners, you will receive an email notifying you of the next steps to unlock your license. We will make the purchase directly with the edtech partner on your behalf.
3) What happens if I do not meet my goal for my cause?
If your goal was not met, you will receive an email to notify you that 1 of 2 options may occur: 1) the Preferred Partner may provide you with a pro-rated subscription opportunity based on how much you raised, or 2) the funds will be sent to your school via a check (our traditional way).
4) Can we raise money for more than one teacher/classroom on one cause for a partner?
Yes! We encourage teams to come together to raise funds for multiple annual licenses so all students are able to benefit from these great tools!
5) Do I have to raise money for one of the Preferred Partners?
Of course not. You are able to raise funds for any PreK-12 need you may have. However, we do suggest that you take a look at our list as we have partnered with the leading edtech tools and products in every category.
Because Every Cent Counts