[Press Release] PledgeCents and Best Buy Education Join Forces to Remove Budget Concerns from EdTech
The partnership allows teachers to fund exclusive Best Buy technology bundles through the PledgeCents Marketplace
Philadelphia, PA – May 12, 2017 – While schools are entering their last month or two of the school year, PledgeCents, the fundraising site which helps to bring resources and opportunities to classrooms by alleviating funding needs, continues to work diligently to find premier partners to join the PledgeCents Marketplace. Today, PledgeCents is excited to announce the newest partner, Best Buy Education, the arm of the company providing schools across the country with educational products, support and protection that schools need for their 21st century learners. The partnership enables teachers, coaches and administrators alike to gain access to technology from the best education tech brands by helping to offset the cost to get these tools into more students' hands.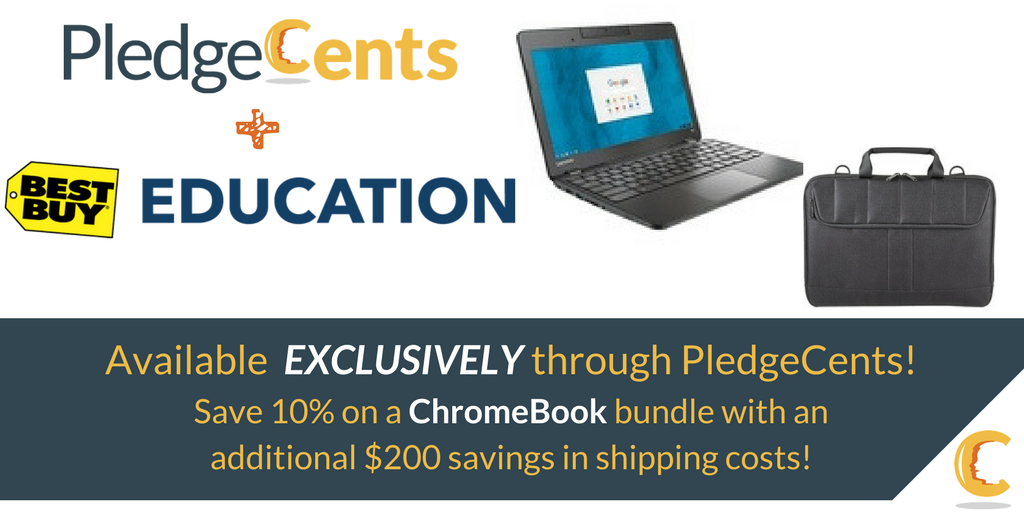 Click to watch video

"We are thrilled to be partnering with such a reputable company like Best Buy," says Andyshea Saberioon, CEO and co-founder of PledgeCents. "Their expertise in education combined with the seemingly endless range of educational products will allow us to provide edtech solutions to benefit any and all schools. Through our shared vision of making it easier to get technology into the hands of every student, we will be increasing the range of possibilities and reducing the cost barriers of technology for teachers and students alike!"
Through the partnership teachers and schools will be able to utilize PledgeCents to seamlessly generate a fundraising page to cover the cost of specialty hardware bundles as well as exclusive Best Buy Education products such as the Google Expedition Kits all at a discounted price. The PledgeCents team works with each fundraiser to help raise the necessary funds and will purchase the plan immediately after the fundraiser ends and also connect the teacher to a member of Best Buy Education's team to expedite the process. Anyone interested can visit https://www.pledgecents.com/signup/event/best-buy to create their own page today.
Representatives from organizations interested in learning more about the program can contact press@pledgecents.com or for more information.


About PledgeCents, Inc.
PledgeCents is the preferred fundraising platform for all PreK-12 needs. By allowing anyone to raise funds, PledgeCents aims to eliminate the $1.6 billion teachers annually spend out-of-pocket for basic classroom needs. Over 1,800 schools representing over 250 public school districts in 50 states work to raise funds through the PledgeCents platform. With the addition of the newly launched Preferred Partner Program, PledgeCents has partnered with over 55 leading education technology companies to help schools and teachers receive access to the tools they need but cannot afford. For more information please visit: www.pledgecents.com or email info@pledgecents.com with any questions.
---
Click below to find exclusive discounts for Best Buy products only on PledgeCents!
---

If you have any questions, email us at info@pledgecents.com.
Because Every Cent Counts