$1,000,000 Invested In Classrooms Across The Country
The $1,000,000 milestone represents increased educational opportunities for close to 525,000 students across the country.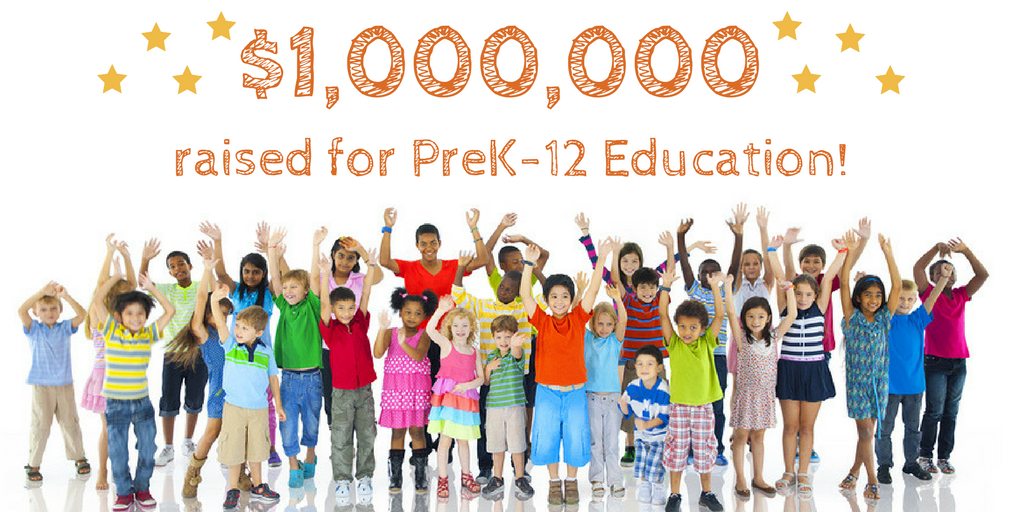 We are excited to announce that we have just passed $1,000,000 raised on PledgeCents! Our team has spent the last couple days watching the investments come in waiting for the tracker to hit that million dollar mark. Once the tracker turned over the seventh digit, we took time to celebrate, reflect, and discuss what this number represents. The overwhelming feeling was that this $1,000,000 milestone is just the start to a movement that ensures that students across the country have the materials and opportunities that they deserve without teachers having to pay for them out of pocket.
Fundraiser Highlights
We thought there was no better time to highlight some of the successful fundraisers that have come through the platform over the years. After all, we just provide the platform. It's the inspiring work of our amazing teachers and the support of their investors that truly make an impact.
The theatre students at Chavez High School in Houston were competing in the prestigious Tommy Tune Awards. One caveat they faced is that their production of Chicago required a live band to play the score and that required additional funding that was not available. Ms. Winner posted the PledgeCents fundraiser and her charismatic students ensured that it was going to be successful. After being featured on local news, you can see the students at react to the investments they received towards their fundraiser.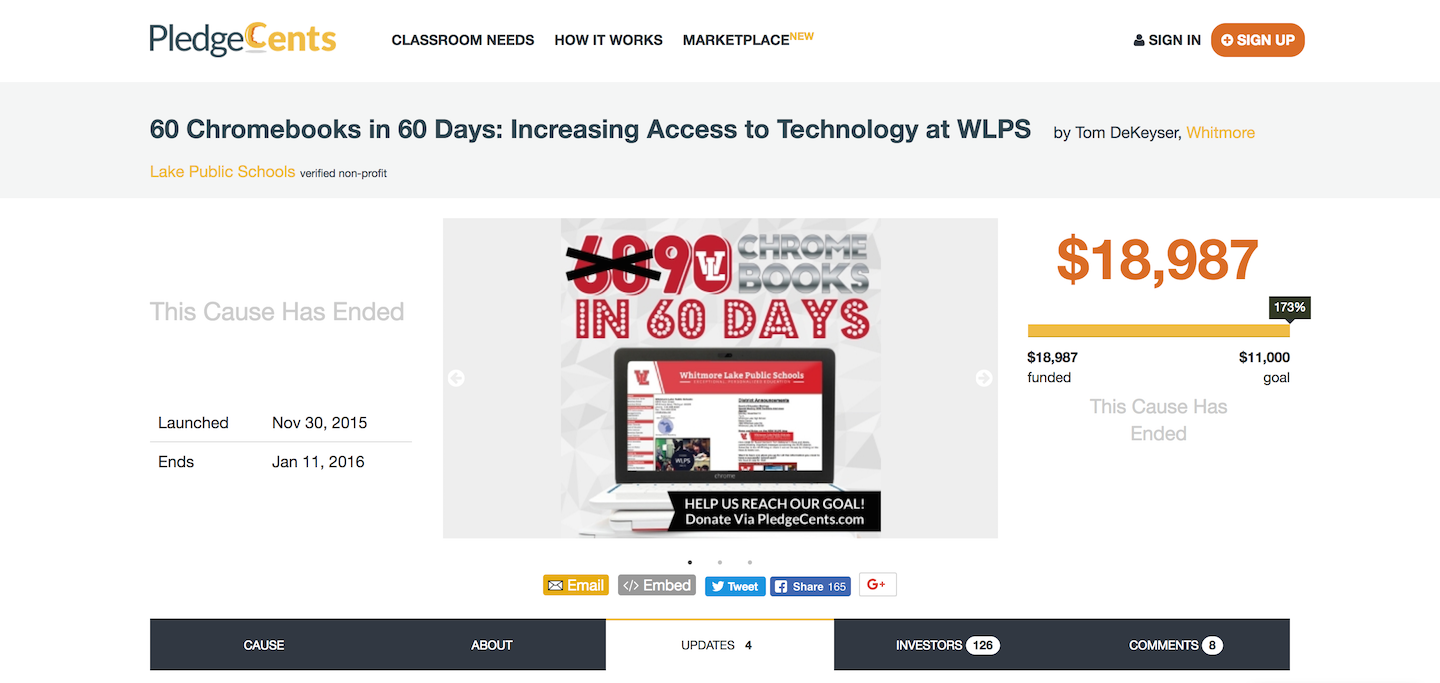 Whitmore Lake Public Schools took full advantage of our 2015 #GivingTuesday competition. With 185 investments and over $18,000 raised in a single day, the Whitmore Lake community definitely rallied together and answered a call for more technology in the classroom. Still to this day, Whitmore Lake claims the title for the most raised on a single day by any of our fundraisers.
First year coach and teacher Ryan Hintz had a vision for what word would describe the 2016-2017 Turner High School Boys Basketball team. "Confident". That started with replacing the old outdated jerseys and equipment. With the amount of detail that was put into the description, you could tell Coach Hintz cared about his players and his vision. Check out the thank you video that his players put together. It is one of our favorites.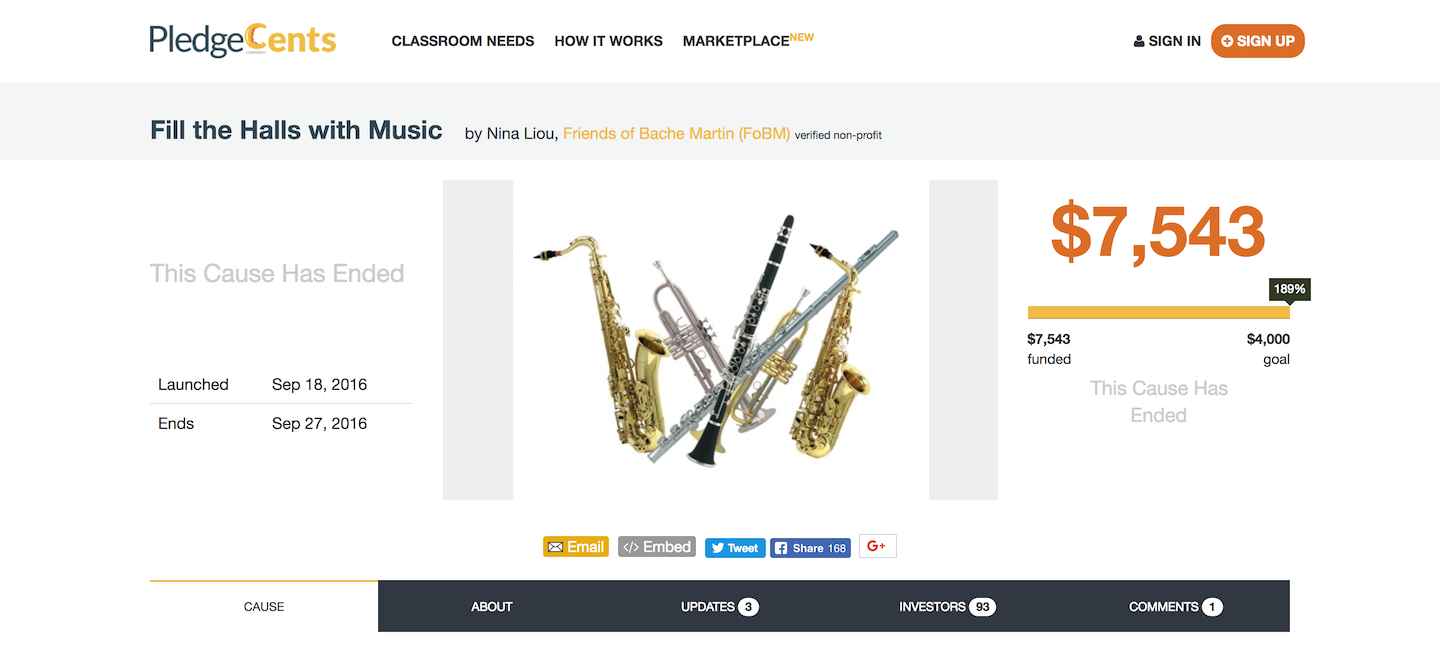 This is an excellent example of the flexibility of who can start a PledgeCents fundraiser. Fill The Halls With Music was created by a parent group in Philadelphia to help support the music program at Bache-Martin. With support from the Friends of Bache Martin Community, this fundraiser exceeded its goal by over $3,500.
Even if it didn't raise a single dollar, we would have highlighted this KIPP Promesa Prep based on a single Facebook post. Ms. Hanley shared a story of a student that came in at the end of parent/teacher conferences with an envelope that was labeled "We will have the most beautiful garden." His parents said that he saved his money for three months and wanted to give $70 towards the learning garden. This is why we do this work.
Ambitious goals. We love them. This KIPP school in Austin wanted to raise $25,000 to fill their first school library with over 5,000 fiction and nonfiction books in English and Spanish. This fundraiser was shared on Facebook 446 times and raised over $19,000. Our motto is every cent counts and that could not be truer in this case. Even though this fundraiser didn't reach its goal, Mr. Siegler still received the funds that they raised. I think we can all agree $19,000 worth of books in the hands of students is definitely better than $0.
Sweet Tweets
The positive feedback we receive from teachers not only helps us improve, but also means the world. Here are just a few shoutouts we have seen over the past couple of years.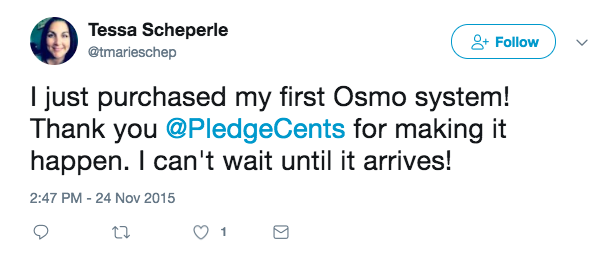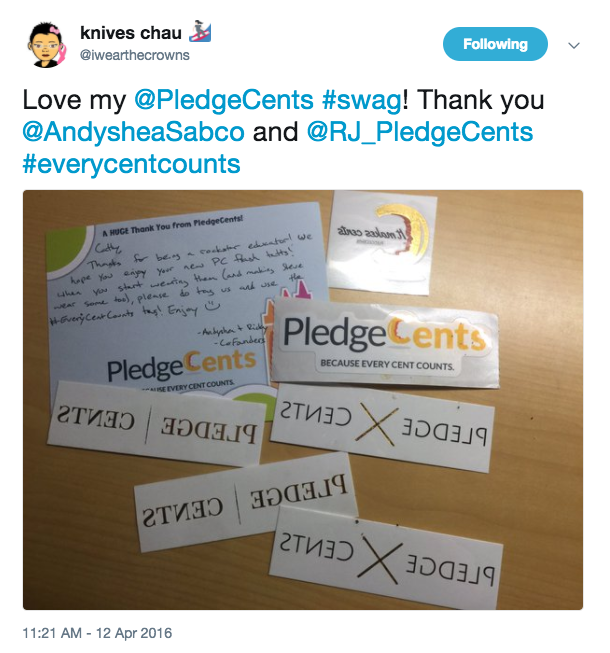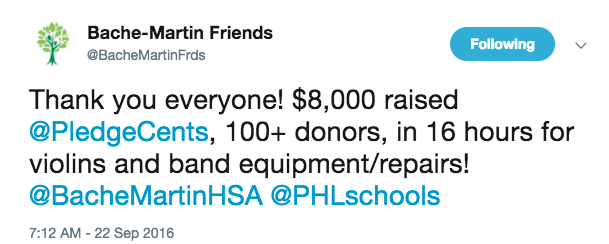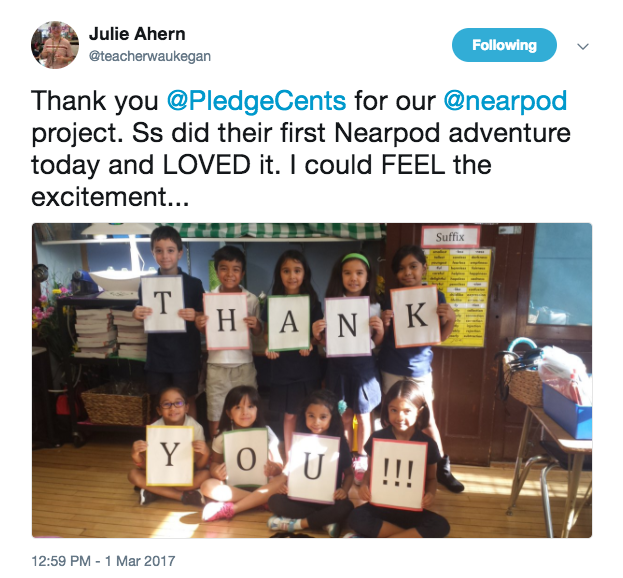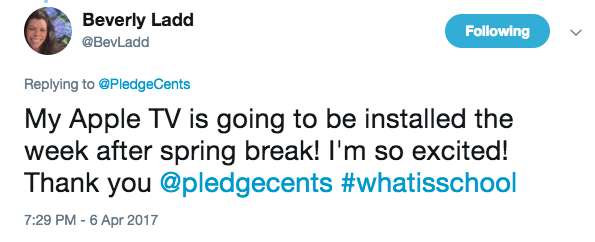 Thoughts From The Team
We went around and asked the team to describe what hitting $1,000,000 meant to them. Here's what they had to say.
Ricky Johnson, Co-Founder & CFO - "It represents impact in communities and schools across the nation. When I go through and look back at each one of the fundraising pages, I see all the people who are taking action to ensure this generation's students get the education they deserve. We celebrate every dollar that comes through the platform, but finally hitting $1 million is pretty cool."
Andyshea Saberioon, Co-Founder & CEO - "Raising $1,000,000 represents that we are moving in the right direction. We know that there are still teachers and students needs that are not being met, and we are constantly striving to help provide them more opportunities."
Heather Histed, Social Media Manager - "This is a milestone that we can all celebrate together. Because I communicate with so many of our stakeholders on social media on a daily basis, I feel inspired by the amount of work that our teachers, administrators, and investors have put in to reach $1,000,000 raised."
Kevon O'Rear, Chief Growth Officer - "Visiting schools and speaking with teachers fuels the work that we do at PledgeCents everyday. The milestone represents the amount of joy that teachers and students have when they see the investments come in and realize that they have a community that supports and believes in them."
---
Sign up and create your fundraising page in just seconds today!
---


If you have any questions, email us at info@pledgecents.com.
Because Every Cent Counts