Turkey Giveaway Round 2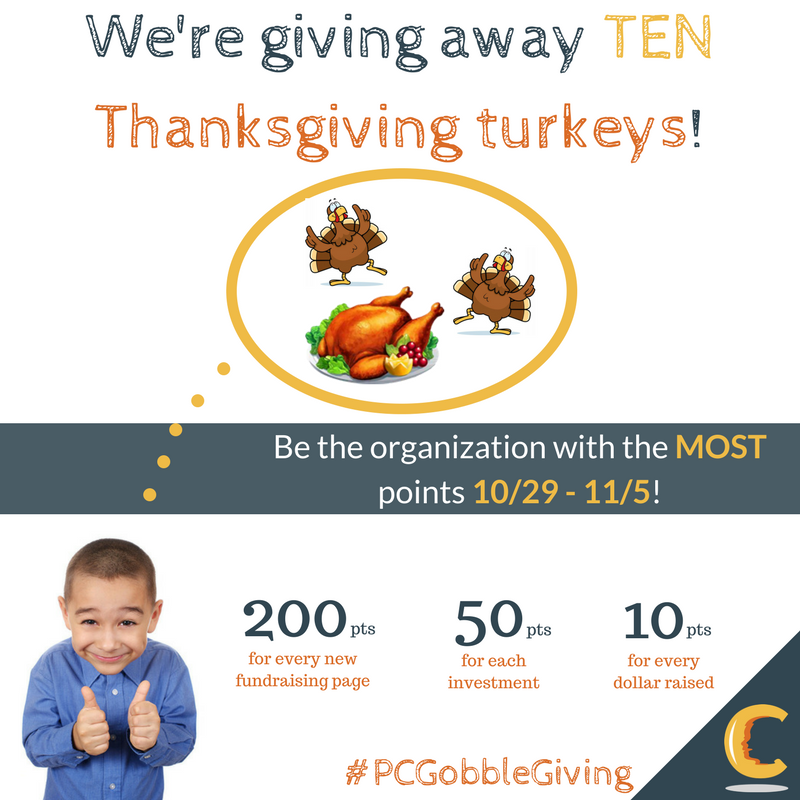 Tis the Season of Giving (and Eating)!
Are you the one who eats the last Turkey leg? Or the one who eats and sits on the couch and watches football all day? Or the one who eats all of the pies? If you say all of the above, then join the club.
We have the fortune of working with over 3,000 organizations nationwide and meeting some people doing great work for their communities! Last year, we launched the innagural Turkey Giveaway and awarded the turkeys to Coach Ryan Hintz's high school basketball team from Kansas City. Coach Hintz's team raised close to $10,000 and rallied support from over 100 investors.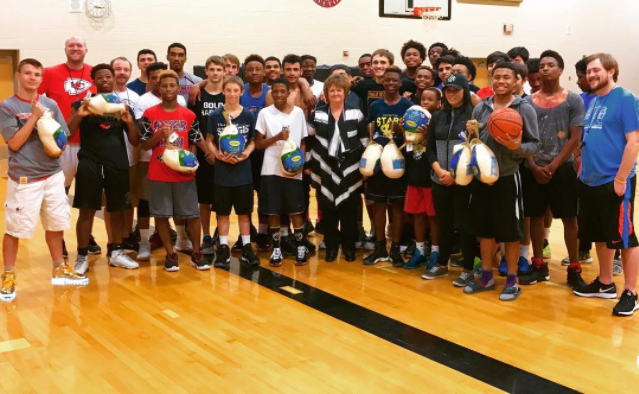 After seeing pictures of the players serving turkeys to people less fortunate in their community, we decided we have to do another #PCGobbleGiving contest!
The winning organization will win 10 turkeys provided by the PledgeCents team! Competition rules:
Earn 200 points for every new fundraising page that goes live for your organization from 10/29-11/5.
Earn 50 points for every investment made to your organization through all eligible fundraising pages.
Earn 10 points for every dollar raised for your organization through all eligible fundraising pages. Valid from 10/29/17 - 11/5/17.
Leaderboard
(FINAL RESULTS):
1. Spring Branch Education Foundation (Houston, TX): 3,600 points

2. KIPP Academy of Innovation (Los Angeles, CA): 3,300 points

3. Reid Park Academy (Charlotte, NC): 3,130 points

4. Mastery Charter School Foundation (Philadelphia, PA): 2,550 points

5. Silent Cry Retreat Center (Houston, TX): 2,500 points

6. Oak Ridge Elementary School (Sacramento, CA): 1,400 points

7. Wright Elementary School (Fort Walton Beach, FL): 1,350 points

8. Brook Knoll Elementary (Santa Cruz, CA): 1,300 points

9. KIPP Nashville College Prep Elementary (Nashville, TN): 920 points

10. Denver North High School (Denver, CO): 850 points

11. Thomas L. Sims Middle School (Pace, FL): 700 points

12. Douglas MacArthur High School (San Antonio, TX): 550 points

13. Turner High School (Kansas City, KS): 550 points

14. Hill Middle School (San Antonio, TX): 450 points

15. Lomira Elementary (Lomira, WI): 450 points

16. KIPP Liberation College Prep (Houston, TX): 450 points

17. Teach for America Memphis Institute (Memphis, TN): 300 points

18. Payson Seymour Elementary School (Payson, IL): 300 points

19. Washington Union High School (Fresno, CA): 280 points

20. Kingdom Remnant Ministries (Rancho Cordova, CA): 200 points

21. St. George Catholic School (Fort Worth, TX): 200 points

22. Hobbton High School (Newton Grove, NC): 200 points
---
What can you do with 10 turkeys? Well, let's give you some ideas:
1. Surprise 10 families in your organization who may not be fortunate enough to have turkey with their own turkey for Thanksgiving.

2. Surprise your teachers, students, volunteers, community members, etc. with a Thanksgiving lunch or dinner party.

3. Donate the turkeys to another local organization in your community.
How can I help my organization win?
1. Send an email to all staff at your organization and have everyone post a fundraising page for a need that they may have.

2. For all fundraising pages that are live, make sure to share on social media and email to friends and family. $1 raised = 10 points.

3. Gather your team/peers and work together to create fundraising pages and raise funds.
Don't miss out on the opportunity to bring smiles and some happy stomachs to your community! Create your fundraising page and start raising funds ASAP.


Because Every Cent Counts