#PCbacktoschool: Fulfill your Amazon Wish List!
That time of the year is creeping back up on us again... back-to-school! Some of you might just be getting ready, and some might already be back in the game! Either way, we know that 99% of you still have an endless list of items that you'd love to purchase for your classroom this year.
We understand that back-to-school season can be a bit overwhelming... the planning, the set up, building connections with your students, professional development, just plain getting back into it all again after the summer... and we've come up with another way that we'd like to help!
Pretty much everyone uses Amazon nowadays (uhm, hello prime!), and you can find just about anything on their website! That's why we are choosing 5 educators and funding their Amazon wish lists!
Here is how this competition will work:
From August 19th to August 26th, the top 5 fundraising pages with the most points will be able to submit their Amazon wishlist (up to the prize amount) to PledgeCents and have it fulfilled for FREE!
1st place = $125 worth of products from Amazon
2nd place = $100 worth of products from Amazon
3rd place = $75 worth of products from Amazon
4th place = $50 worth of products from Amazon
5th place = $25 worth of products from Amazon
Points Breakdown:
Create a fundraising page = 1 point
$1 raised = 1 point
*Below the picture section on your fundraising page, you will see different buttons that you can click to share your fundraiser. We understand that not everyone on your friends list is able to invest in your fundraiser, but even just by sharing they are helping your page to gain exposure!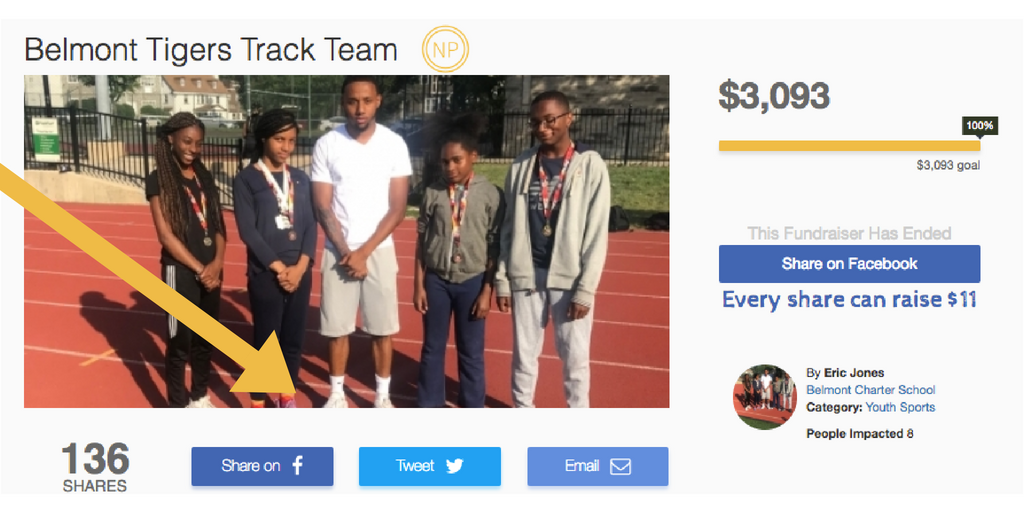 Don't forget that PledgeCents has 0% platform fees! You will receive whatever amount you raise on your page even if you don't meet your goal, unlike other sites. We also don't have a minimum or maximum goal requirement... so there's really nothing to lose!
The leaderboard below will be updated daily. Be sure to check in!
Leaderboard (Final Results):
*updated 8/27/18 1:45pm EST
1) 1,032 points: Hooray for K 2018!, Emmaline Imbriglia
2) 873 points: Blue Valley Northwest Girls Basketball, BVNW Girls Basketball
3) 646 points: Classroom Setup, Jennifer Sciarrino
4) 600 points: Building the Foundation: Startup Classroom Supplies, Kendra Harrison
5) 460 points: Building the Foundation: Startup Classroom Supplies, Claire Bagnani
6) 414 points: Impartial Privilege for Underprivileged Students, Anna Mann
7) 336 points: Read the World, Patrick Mullan-Koufopoulos
8) 325 points: Building the Foundation: Startup Classroom Supplies, Alyse Campbell
9) 295 points: Building the Foundation: Startup Classroom Supplies, Day Mitchell
10) 273 points: Fidget to Focus, Katie Roberts
FAQ
Is any fundraising page eligible to participate?

Yes. All existing fundraising pages (live before August 19, 2018) and new fundraising pages (started on August 19, 2018) will be eligible to participate.

If I win, how will I be notified?

We will have a leaderboard right above this section. The leaderboard will be updated throughout the duration of the campaign. At the end of the competition, the fundraising pages that have won will receive an email within 72 hours after the competition our team to notify them.

When will my Amazon wishlist be fulfilled?

Once you have received an email to notify you that you have won, the time period to get your wish list fulfilled will be determined by how quickly you are able to get your list to our team.

What if my page is scheduled to end before (or on) August 19th)?

Make sure to email our team at info@pledgecents.com and let us know that you want your fundraising page to be extended. We will make the extension on your behalf.

What all can I purchase from Amazon?

Your items must be items that will positively impact your classroom or group of students. No items purchased on this wish list can be used for personal use.
---
Sign up and create your fundraising page in just seconds today!
---


If you have any questions, email us at info@pledgecents.com.
Because Every Cent Counts