Make a Teacher's Day: Teacher Appreciation Week 2019!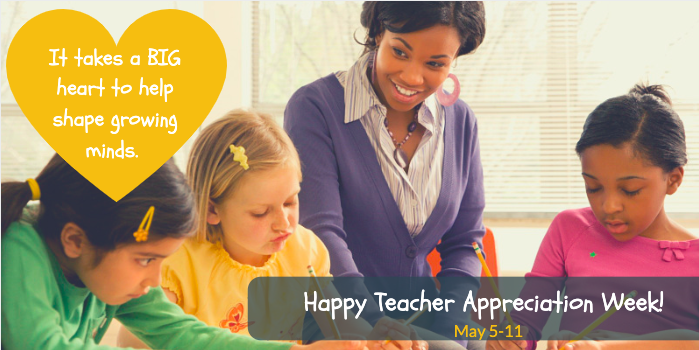 Teacher Appreciation Week is just around the corner. The National PTA has designated May 5-11 as this year's time to take that extra step to honor those that educate our children. We can help you take this year's Teacher Appreciation Week to the next level and really show that special teacher some love!
Our Teacher Appreciation Week contest is officially launching May 5 and will run through May 11! Whether you are a teacher or someone showing support for a special educator in your life, this contest is for YOU! We have teamed up with some of our Preferred Partners to share some amazing prizes! Entry is simple: create a fundraising page. You'll gain additional entries into special contests by meeting various goals - check out the table below for all the details!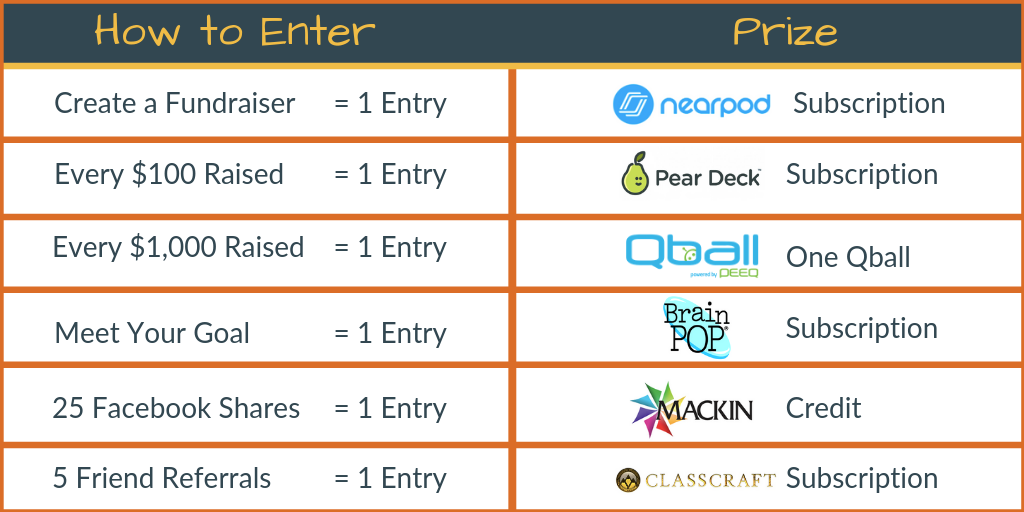 *All subscriptions are valid for one year, Mackin credit is $100.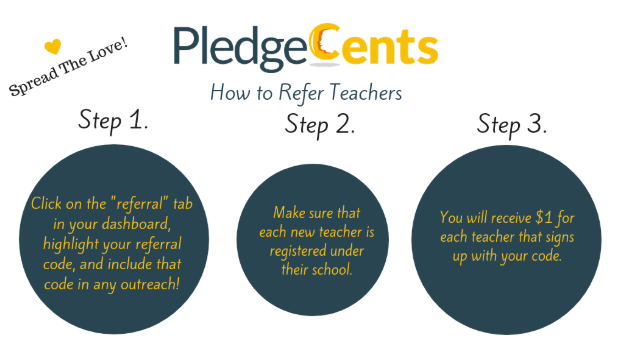 Also, be sure to keep tabs on our social media profiles including Instagram, Twitter, and Facebook so that you don't miss when we drop flash contests throughout the week!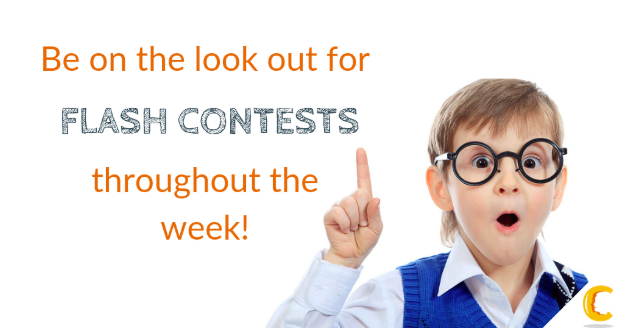 Educators love to build communities in their classrooms. We often hear from teachers that the one thing that makes them the happiest is family involvement. PledgeCents streamlines the process so everybody can get involved and show their student's teacher how much they care!
Here are 3 ways you can be a part of the classroom community during Teacher Appreciation Week:
1) Keep it a surprise: Try to be as covert as possible when asking what is needed in the classroom. You can go to the school administration and see if the teacher has made any requests for special supplies or equipment. During the big reveal, make sure to take a video; we promise the reaction will be priceless.
2) Share your story: In the fundraiser description, tell why your student has the most amazing teacher. How has this teacher impacted the students in the classroom? What do they do everyday that makes them a superhero? When the teacher gets a chance to read it, it will mean just as much as the supplies or materials.
3) Grab your squad: One of the biggest hurdles during Teacher Appreciation Week is coordination. By posting a fundraiser to PledgeCents, everybody can contribute on their own time no matter how busy their schedule is! Don't forget to share with the grandparents, as they love to get involved too. The best part is, you no longer have to worry about who to make a check out to or that Jimmy actually gave that $20 bill to Kara to give to her mom.
(Bonus) Beat the heat. If you live in an area that starts getting steamy this time of year, ask about the air conditioning in the building. A lot of schools that we work with have older buildings that don't have central air conditioning and it can get extremely hot in the classrooms. In order for students to focus, they must feel comfortable. You can create a fundraiser to raise money for fans or window units to make sure everybody keeps cool! Plus, when they give you that thank you hug, it will be a lot less sweaty. :)
Looking for another way to really honor an amazing educator in your life? Submit a "Teacher Spotlight" about your student's favorite teacher (or better yet… have them write the story!) and share it with us. We love highlighting awesome educators on our blog and social media… and we might even send them a little something just for being so amazing! We want to hear about the educators in your communities that have a powerful impact on your students. Email our social media manager at Heather@PledgeCents.com to have your feature published!
FAQ
Is any fundraising page eligible to participate?
Any fundraiser is eligible to participate, but only fundraisers created on or after May 5, 2019 will be eligible for the "create a fundraiser" contest category as outlined in the table above.
How do I enter if I am already live?
Your current fundraiser will not be eligible for the "create a fundraiser" category, but you can still participate in the other contest categories as outlined in the table above by raising money, sharing to Facebook, and referring friends!
How do I know if I am entered?
All current fundraising pages can participate by raising funds, sharing on Facebook, and referring friends. All fundraisers created on or after May 5, 2019 will also be eligible for the "create a fundraiser" contest category.
What if my page is scheduled to end before (or on) May 5th, 2019?
Make sure to email our team at info@pledgecents.com and let us know that you want your fundraising page to be extended. We will make the extension on your behalf.
When do I get my stuff?
The winner of each category will be able to decide when they would like to redeem their prize. The winners will receive an email from our team to notify them that they have won.
How will I get updated to know if I am eligible to win a prize?
Every participating fundraiser will receive an email from our team to notify them that they are eligible to win any prize listed above.
If I win a subscription, when would it begin?
You can choose when you would like for your annual subscription to start.



Sign up and create your fundraising page in just seconds today!
---


If you have any questions, email us at info@pledgecents.com.
Because Every Cent Counts