#ClearTheList PledgeCents Style

We are helping you clear your back-to-school wishlist!
We couldn't help but notice the #ClearTheList hashtag trending everywhere! We absolutely love this initiative, as ensuring that educators have the materials they need to provide the best education to their students is our main mission! This wonderful movement further supports equal educational opportunities for students everywhere!

We will choose random lists to clear, provide $$$ matching opportunities, and Twitter / Facebook share matching opportunities to help as many educators as we can to #ClearTheList! It doesn't have to end there. Even if a list is completely cleared, educators will still have the opportunity to raise more funds to further support their students and classroom needs throughout the year! There is no limit to how much $$$ you can earn!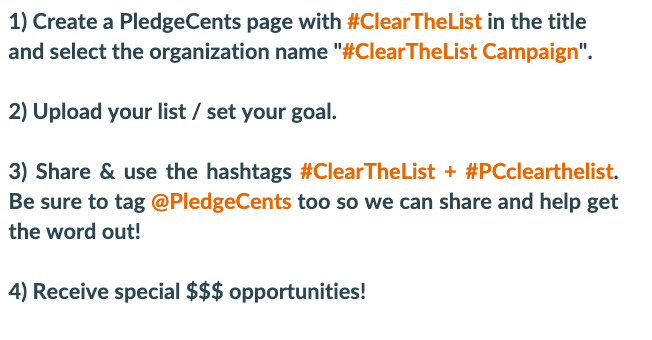 Click here to sign up at PledgeCents.com (Or to sign in to your account if you already have one!).
Create a new fundraising page and simply set your "goal" as the total amount of your wishlist! Be sure to include #ClearTheList in the title to indicate that you'd like to participate in the campaign! Also select your organization as "#ClearTheList Campaign" so that we can easily send you all funds in the form of an Amazon e-giftcard. If you created a list on Amazon, you can include a link in the description or you can simply list the items that you'd like to fund for your classroom. You don't need to get super fancy here, but it totally helps to be transparent and include links + prices for those investing in your classroom!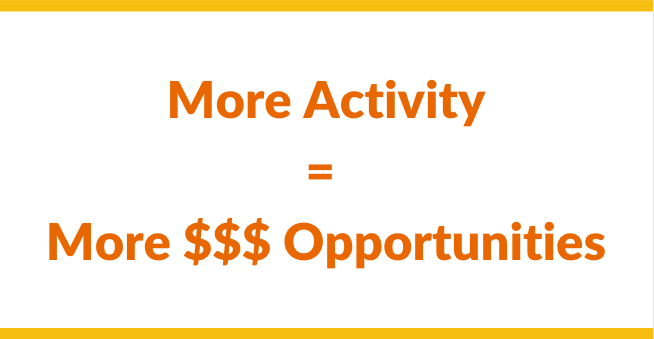 The more you interact with your PledgeCents page, the more you'll have opportunities to #ClearTheList! This means sharing on Twitter, Facebook, and Instagram. We will look at the number of shares + likes when determining which opportunities your page will be eligible for. Be sure to use the hashtags #ClearTheList + #PCclearthelist and tag @PledgeCents so that we can follow along and RT / share your list! We're here to support you every step of the way!!!
We will also choose random pages to fully clear!
Keep sharing as AWESOMELY as you are now, but be sure to include the above hashtags, tag us, and include your PledgeCents page link!
FAQ
Is any fundraising page eligible to participate?

You must inlude #ClearTheList in your title to indicate that you'd like to join in the campaign!

How will I know when I am selected for a special opportunity?

You will receive email correspondence from the PledgeCents team when your page has been selected for special matching opportunities or to be fully cleared!

How will I get my items?

We will send you an Amazon e-giftcard with all of your funds so that you can make the purchase directly. If you raised additional funds beyond your goal, those will be included in the total amount as well. It is important that you select "#ClearTheList Campaign" as your organization so that we can easily send you the e-giftcard directly!

Can I extend my fundraising page?

Make sure to email our team at info@pledgecents.com and let us know that you want your fundraising page to be extended. We will make the extension on your behalf.

What all can I purchase from Amazon?

Your items must be items that will positively impact your classroom or group of students. No items purchased on this wish list can be used for personal use. However, we will not check up on you because we believe that you are the professional, and you will use the items appropriately.
Sign up to get started on your #ClearTheList PledgeCents campaign today!
---


As always, if you have any questions, email us at info@pledgecents.com or reach out to use on Twitter, Facebook, or Instagram!
Because Every Cent Counts