Giving Thanks to Investors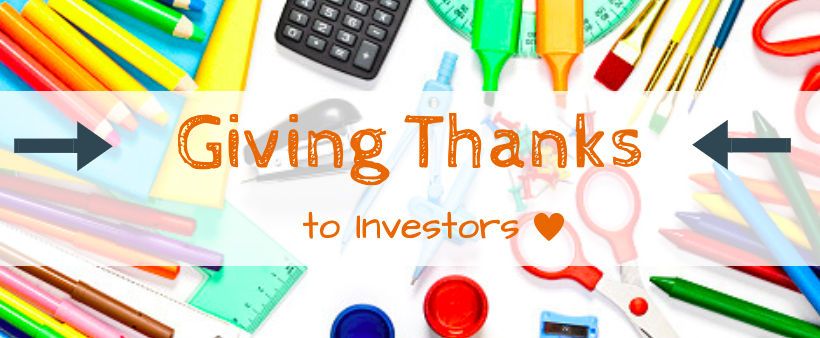 In the midst of the holiday season, we usually stress to our kids how important it is to be thankful! One of the best ways to secure investors and make them feel appreciated is also to show your thankfulness to their contribution to your project. Here are a few different ways that you can give thanks to those that support you!
Write a Thank You Letter
There's a few ways that you could write a letter. If you have the time, having each of your kids write a thank you letter is a personalized and great way to show the overall impact they have had on your students. If you cannot fit that into your routine, then write a letter yourself and have all of your students sign it. Mail it to your investor and you have a great personalized thank you! Check out Lemony Snicket's advice on writing a Thank you Letter!



[via:Pinterest]

Send a Video
Sending a video is another way to show thankfulness! This is a fantastic way because it can portray emotion and your investor will get to see the people they had an impact on! Whether it's showing your kids using what you bought with the money they have or just having your smiling kids say thank you, investors will appreciate seeing and hearing from your students that they made a difference!

E-mail
Sending a quick e-mail right after you receive a donation shows immediate gratitude to your investors. Just a few short sentences is all that's needed and you have instant thankfulness that means the world! Combine this one with another thank you strategy after your fundraiser is complete and you'll have happy investors!

Thank You Box
A thank you box gives you flexibility with what you put into it. Possible items included could be: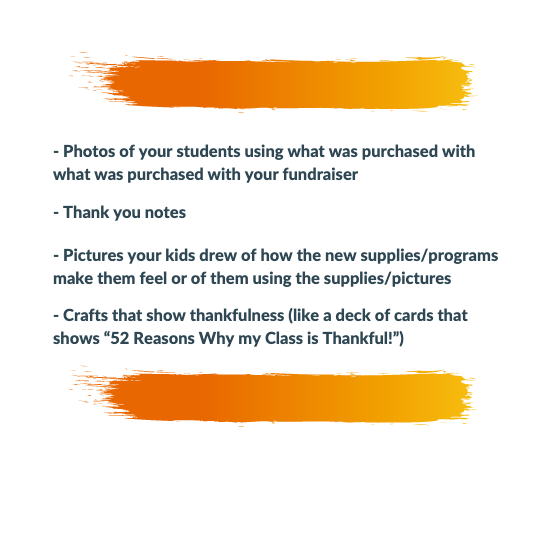 As your project approaches becoming fully funded, start looking at a few of these ways to show thanks to your investors. The holiday season is all about thankfulness, but it never goes out of style!
Sign up and create your fundraising page in just seconds today!
---


If you have any questions, email us at info@pledgecents.com.
Because Every Cent Counts